On March 3 and 4, the Texas Book Festival returns to the Rio Grande Valley to visit six elementary schools as part of the Festival's annual Reading Rock Stars program. Throughout the two days, nine nationally-acclaimed children's authors will visit each school and present to students, a culmination of weeks of each school's preparation for the program. Additionally, TBF will gift each student a copy of the visiting author's book.
TBF will donate 3,915 books to classrooms at Hurla M. Midkiff Elementary School, Bryan Elementary School, Guillermo Flores Elementary School, Enedina B. Guerra Elementary School, Cesar Chavez Elementary School, and Dr. R. E Margo Elementary.
With this latest round of Reading Rock Stars, the Texas Book Festival will have given more than 133,000 books to students in elementary schools across Texas since the program's inception.
The Texas Book Festival's Reading Rock Stars literacy program brings books to life for children in elementary schools by inviting authors and illustrators into classrooms with entertaining presentations that inspire students to read, write, and create. Thanks to generous support from sponsors—including H-E-B and the University of Texas Rio Grande Valley—the Texas Book Festival gives each student an autographed copy of their author's book and provides the school library with a new set of books by the visiting Reading Rock Stars authors. After each presentation, the author personally hands an autographed copy of their book to each student.
Get to know the authors and their books:
Jon Scieszka was born in Flint, Michigan on September 8, 1954. It was a Wednesday. Right around lunchtime.
He is the second-oldest, and nicest, of six Scieszka boys. No girls.
His mother, Shirley, worked as a registered nurse.
His dad, Louis, was an elementary school principal at Freeman Elementary.
His dad's parents, Michael and Anna, came to America from Poland. "Scieszka" is a word in Polish. It means "path."
Steven Weinberg
I write and illustrate kids' books about mutants fixing climate change, being a middle kid, chainsaws, beards, roller coasters, and dinosaurs. And I paint landscapes and fish, too. Basically all the fun stuff.
My books have been called "Brilliant" by Dave Pilkey, "thrillingly shameless" by the NY Times, "guaranteed to fuel read-aloud energy" by Publisher's Weekly. They have won awards such as the Virginia Reader's Choice Award (YOU MUST BE THIS TALL) and the Junior Library Guild Gold Standard Selection (ASTRONUTS: MISSION ONE THE PLANT PLANET), and the best board book of 2021 by Parents Magazine (WASHER AND DRYER'S BIG JOB).
My art has been featured in The New York Times, on book covers, beer cans, in magazines like Gray's Sporting Journal and Boys' Life as well as being exhibited across the country.
I live in the Catskills with my wife Casey Scieszka, our daughters Amina and Felix, our dog Waldo, and our bed and bar called the Spruceton Inn (and Artist Residency!) that we all run together in the backyard.
Astro-Nuts Mission Three: The Perfect Planet
In this final book in the series, the crew (AstroWolf, LaserShark, SmartHawk, and StinkBug) must find a planet fit for human life before it's too late.
So when they land on a place called "the perfect planet" their mission sounds way too easy. However, they quickly discover they're dealing with the most dangerous specifies of all time . . . humans!? The AstroNuts have to work fast to convince the humans to risk death for the sake of their own lives!
---
Diana Lopez
Diana López is the author of the adult novella Sofia's Saints and numerous middle-grade novels, including Confetti Girl, Nothing Up My Sleeve and Lucky Luna. Her debut picture book, Sing With Me: The Story of Selena Quintanilla, is available in English and Spanish. She also wrote the novel adaptation for the Disney/Pixar film Coco. Diana retired after a 28-year career in education at the middle grade and college levels, but she enjoys meeting with students when she visits schools to chat about books and writing. She lives in her hometown of Corpus Christi, Texas.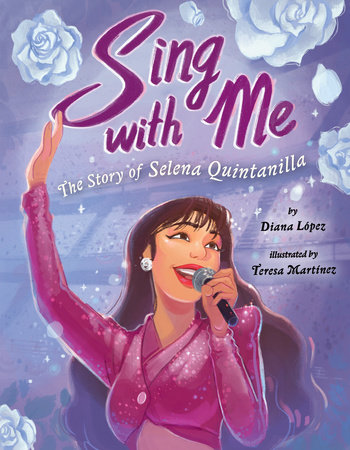 Sing with Me: The Story of Selena Quintanilla:
An exuberant picture book celebrating the life and legacy of Selena Quintanilla, beloved Queen of Tejano music.
From a very early age, young Selena knew how to connect with people and bring them together with music. Sing with Me follows Selena's rise to stardom, from front-lining her family's band at rodeos and quinceañeras to performing in front of tens of thousands at the Houston Astrodome. Young readers will be empowered by Selena's dedication–learning Spanish as a teenager, designing her own clothes, and traveling around the country with her family–sharing her pride in her Mexican-American roots and her love of music and fashion with the world.
---
Raquel Ortiz
Raquel's book Broken Butterfly Wings: Alas de mariposa rotas tells the story of a girl who wants to be a great dancer but she feels she can't get anything right. Then, when she feels the beat of the drums, she loses herself in the music.
Raquel was born and raised in Lorain, Ohio. She is the author of two other bilingual picture books: Sofi and the Magic, Musical Mural / Sofi y el mágico mural musical (Arte Público Press, 2015) and Sofi Paints Her Dreams / Sofi pinta sus sueños (Piñata Books, 2019). She has worked at The Brooklyn Museum, the Allen Memorial Art Museum and El Museo del Barrio. Currently, she creates educational material for the Puerto Rican Heritage Cultural Ambassadors Program at the Center for Puerto Rican Studies at Hunter College in New York City.
Broken Butterfly Wings: Alas de mariposa rotas:
Gabriela is super excited when her gift from Titi Sylvia finally arrives. She loves the colorful, glittery butterfly wings! She stands in the middle of her room and flaps and flaps her new wings, but nothing happens. She jumps off her bed, vigorously moving the wings up and down, but again, nada. She hops down the hallway and the stairs, but she still can't fly!
Disappointed, Gabriela goes to the garage, digs into her father's toolbox, and sets about trying to fix the broken butterfly wings. Maybe she can add a battery or an engine. Her father has a better idea, though, and encourages her to close her eyes and think about where she would like to fly. Soon she is envisioning El Yunque, a rainforest on the island of Puerto Rico that is full of tall green trees, humming waterfalls, and chattering birds. She can even hear the coquí, a tiny tree frog that lives only on the island, singing its special song: coquí-coquí.
Demonstrating the joy found in using one's imagination, this bilingual picture book depicts a young girl drawing on her senses—smell, hearing, sight—to return to a beloved place. Kids will appreciate the beauty of the rainforest's birds, frogs, and other natural wonders while admiring a strong girl willing to create solutions to problems.
---
Victoria Castillo
Victoria is an illustrator and comic artist who has a Bachelor of Arts in creative writing from the University of North Texas. Her Colombian mother and Mexican father ensured that she was exposed to different cultures from an early age. She has traveled extensively, and those adventures taught her the importance of diversity. She credits her passion for languages and communication to these experiences. The illustrator of The Little Doctor / El doctorcito (Piñata Books, 2016), Victoria loves vibrant, expressive shapes and colors. She surrounds herself with books, toys, music, cartoons, and monsters of various forms and sizes for inspiration in her drawing, sculpting, and painting. She lives in Texas with her family and numerous dogs.
Luna Luminosa, Dónde Estás? / Luminous Moon, Where Are You?
Juanito looked outside one dark night and discovered the moon was nowhere to be seen! Where could it have gone? Is it hiding under the bed or behind a great mountain?
He wonders if the coyote took it to his lair, but the wily canine couldn't catch the slippery moon. "Aaah-ooooooh, aaaah-ooooooh, aaaah-ooooooh," he cries sadly. Maybe the cicada's deafening screeches made it disappear! Or did the owl bewitch the luminous moon? Perhaps the frog drowned it in the lagoon! Could the fireflies' bright lights have hidden its glow? Juanito just doesn't know!
This charming story by Aracely De Alvarado introducing the phases of the moon to children is enlivened by Victoria Castillo's bright, eye-catching illustrations depicting the nighttime sky and animals in their habitat.  Kids ages 4 – 8, and some adults too, will enjoy repeating the sounds animals make—in English and Spanish!
---
Anna Meriano
Anna Meriano grew up in Houston and graduated from Rice University with a degree in English, and earned her MFA in creative writing with an emphasis in writing for children from the New School in New York. There she met CAKE Literary founders Dhonielle Clayton and Sona Charaipotra, who started her on the Love Sugar Magic journey. Anna has written three Love Sugar Magic books.
Love Sugar Magic: A Mixture of Mischief:
Anna Meriano's unforgettable family of brujas returns for one more serving of amor, azúcar, and magia, in this breakout series that's been called "charming and delectably sweet." (Zoraida Córdova, award-winning author of the Brooklyn Brujas series)
It's spring break in Rose Hill, Texas, but Leo Logroño has a lot of work to do if she's going to become a full-fledged bruja like the rest of her family.
She still hasn't discovered the true nature of her magical abilities, and that isn't the only bit of trouble in her life: Her family's baking heirlooms have begun to go missing, and a new bakery called Honeybees has opened across town, threatening to run Amor y Azúcar right out of business.
What's more, everyone around her seems to have secrets, and none of them want to tell Leo what's going on.
But the biggest secret of all comes when Leo is paid a very surprising visit—by her long-lost Abuelo Logroño. Abuelo promises answers to her most pressing questions and tells Leo he can teach her about her power, about what it takes to survive in a world where threats lurk in the shadows. But can she trust him?
---
Margarita Engle
Margarita Engle is the Cuban American author of many books including the verse novels Rima's Rebellion; Your Heart, My Sky; With a Star in My Hand; The Surrender Tree, a Newbery Honor winner; and The Lightning Dreamer. Her verse memoirs include Soaring Earth and Enchanted Air, which received the Pura Belpré Award, a Walter Dean Myers Award Honor, and was a finalist for the YALSA Award for Excellence in Nonfiction, among others. Her picture books include Drum Dream Girl; Dancing Hands; and The Flying Girl. Visit her at MargaritaEngle.com.
A Song of Frutas:
From Pura Belpré Award-winning author Margarita Engle comes a lively, rhythmic picture book about a little girl visiting her grandfather who is a pregonero—a singing street vendor in Cuba—and helping him sell his frutas.
When we visit mi abuelo, I help him sell
frutas, singing the names of each fruit
as we walk, our footsteps like drumbeats,
our hands like maracas, shaking…
The little girl loves visiting her grandfather in Cuba and singing his special songs to sell all kinds of fruit: mango, limón, naranja, piña, and more! Even when they're apart, grandfather and granddaughter can share rhymes between their countries like un abrazo—a hug—made of words carried on letters that soar across the distance like songbirds.
---
 Angela Dominguez

Angela Dominguez was born in Mexico City and grew up in the great state of Texas. She now resides on the east coast with her boyfriend, Kyle, and their petite dog, Petunia. She is also the author and illustrator of several books for children and a two-time recipient of Pura Belpré Illustration Honor. Her debut middle-grade novel, Stella Díaz Has Something To Say, was a New York Public Library and a Chicago Public Library pick for Best Books for Kids, Sid Fleischman Award winner, and an ALA Notable. She recently illustrated Supreme Court Justice Sonia Sotomayor's newest picture book, Just Help! How to Build a Better World. As a child, she loved reading books and making a mess creating pictures. She's delighted to still be doing both.
Stella Díaz Dreams Big:
In Stella Díaz Dreams Big, by award-winning author and illustrator Angela Dominguez, how will Stella fare when the waters get rough?
Stella is happy as a clam in fourth grade. She's the president of the Sea Musketeers conservation club, she starts taking swim lessons, and she joins a new art club at school. But as her schedule fills up, school gets harder, too. Suddenly the tides have turned, and she is way too busy!
Stella will be in an ocean of trouble if she can't keep her head above water. But with her trusty Sea Musketeers by her side, she hopes to make her big dreams come true!
Based on the author's experiences growing up Mexican-American, this infectiously charming character comes to life through relatable storytelling including simple Spanish vocabulary and adorable black-and-white art.
---
David Bowles
David Bowles is a Mexican-American author from south Texas, where he teaches at the University of Texas Río Grande Valley. He has written several titles, most notably The Smoking Mirror (Pura Belpré Honor Book) and They Call Me Güero (Tomás Rivera Mexican American Children's Book Award, Claudia Lewis Award for Excellence in Poetry, Pura Belpré Honor Book, Walter Dean Myers Honor Book).
His work has also been published in multiple anthologies, plus venues such as Asymptote, Strange Horizons, Apex Magazine, Metamorphoses, Rattle, Translation Review, and the Journal of Children's Literature.
In 2017, David was inducted into the Texas Institute of Letters.
My Two Border Towns: