On March 10, the Texas Book Festival returns to the Houston area to visit four elementary schools in Aldine and Humble as part of the Festival's annual Reading Rock Stars program. Throughout the days, eleven nationally-acclaimed children's authors will visit each school and present to students, a culmination of weeks of each school's preparation for the program. Additionally, TBF will gift each student a copy of the visiting author's book.
TBF will donate more than 2,000 books to classrooms at Wilson Elementary School, Thompson Elementary School, Harris Elementary School, and Magrill Primary School.
With this latest round of Reading Rock Stars, the Texas Book Festival will have given more than 133,000 books to students in elementary schools across Texas since the program's inception.
The Texas Book Festival's Reading Rock Stars literacy program brings books to life for children in elementary schools by inviting authors and illustrators into classrooms with entertaining presentations that inspire students to read, write, and create. Thanks to generous support from sponsor H-E-B and many individual donors, the Texas Book Festival gives each student an autographed copy of their author's book and provides the school library with a new set of books by the visiting Reading Rock Stars authors. After each presentation, the author personally hands an autographed copy of their book to each student.
Get to know the authors and their books:
Chris Barton is the author of many picture books including the award-winning What Do You Do with a Voice Like That?: The Story of Extraordinary Congresswoman Barbara Jordan, New York Times bestseller Shark vs. Train, Sibert Honor-winning The Day-Glo Brothers, and Texas Bluebonnet Award Master List books The Amazing Age of John Roy Lynch and Whoosh!. He visits schools by the score and also loves speaking to professional gatherings of librarians, educators, and his fellow writers. Chris and his wife, novelist Jennifer Ziegler, live in Austin, Texas, with their family. For more information about Chris, please visit ChrisBarton.info.
How to Make a Book About My Dog
How do you make a picture book? Well, you need an author, an illustrator, and . . . a dog?! 
Acclaimed author Chris Barton and his trusty pooch Ernie show readers how to make a nonfiction picture book . . . about Ernie! From coming up with ideas, researching, and writing the first draft to find the perfect illustrator, deciding what goes on the cover, and getting every last word just right, you'll see how a book is made from beginning to end.  
From acquisitions and editing to graphic design and dog treats, find out what's required to bring a book to life. This title perfectly blends how-to and humor for an informative look at book publishing. And look, this is part of the marketing step! 
---
Varian Johnson is the author of several novels for children and young adults, including The Parker Inheritance, which won both Coretta Scott King Author Honor and Boston Globe/Horn Book Honor awards; The Great Greene Heist, an ALA Notable Children's book and Kirkus Reviews Best Book; and the graphic novel Twins, illustrated by Shannon Wright, an NPR Best Book.
Varian was born in Florence, South Carolina, and attended the University of Oklahoma, where he received a BS in Civil Engineering. He later received an MFA in Writing for Children and Young Adults from Vermont College of Fine Arts and is honored to now be a member of the faculty. Varian lives outside of Austin, TX with his family.
Playing the Cards You're Dealt
Ten-year-old Anthony Joplin has made it to double digits! Which means he's finally old enough to play in the spades tournament every Joplin Man before him seems to have won. So while Ant's friends are stressing about fifth-grade homework and girls, Ant only has one thing on his mind: how he'll measure up to his father's expectations at the card table.
Then Ant's best friend gets grounded, and he's forced to find another spades partner. And Shirley, the new girl in his class, isn't exactly who he has in mind. She talks a whole lot of trash — way more than his old partner. Plus, he's not sure that his father wants him to play with a girl. But she's smart and tough, pretty, and knows every card trick in the book. So Ant decides to join forces with Shirley — and keep his plans a secret.
Only it turns out secrets are another Joplin Man tradition. And his father is hiding one so big it may tear their family apart…
---
Xavier Garza is a prolific author, artist, and storyteller whose work focuses primarily on his experiences growing up in the small border town of Rio Grande City. He graduated from the University of Texas-Pan American in 1994 with a BFA in Art and has exhibited his art and performed his stories in venues throughout the United States. He is the author of Rooster Joe and the Bully / El Gallo Joe y el abusón (Piñata Books, 2016), The Donkey Lady Fights La Llorona and Other Stories / La señora Asno se enfrenta a la Llorona y otros cuentos (Piñata Books, 2015), Maximilian & The Mystery of the Guardian Angel: A Bilingual Lucha Libre Thriller (Cinco Puntos Press, 2011), Kid Cyclone Fights the Devil and Other Stories / Kid Ciclón se enfrenta a el Diablo y otras historias (Piñata Books, 2010), Zulema and the Witch Owl / Zulema y la Bruja Lechuza (Piñata Books, 2009), Charro Claus and the Tejas Kid (Cinco Puntos Press, 2008), Juan and the Chupacabras / Juan y el Chupacabras (Piñata Books, 2006), Lucha Libre: The Man in The Silver Mask: A Bilingual Cuento (Cinco Puntos Press 2005), and Creepy Creatures and Other Cucuys (Piñata Books, 2004). Xavier Garza lives with his family in San Antonio.
La Llorana Can't Scare Me/La Llorona no me asusta
Little Damian is getting ready for bed, and the spooky monster called La Llorona is hollering up a storm outside his bedroom window. But he's not afraid. "You can't scare me, silly Llorona," says Damian, "and neither can your monster friends!"
When evil-looking witch owls fly around his room and little green duendes, or goblins, make creepy noises under his bed, he's still not frightened. Not even a little bit. The Donkey Lady, a chupacabras and even some little devils parade through his room, but Damian still isn't afraid. A witch casting spells, a ghost rattling its chains, a cucuy with a burlap bag to catch him … nada. None of them can terrify brave little Damian. How can a little boy like him be so fearless?!?
No one knows it, but Damian has a secret weapon: a night light shaped like a mighty wrestler wearing a silver mask. When he plugs it in, its bright light terrifies all the monsters and sends them running for a place to hide! Touching on issues such as bedtime rituals and nighttime terrors, children ages 4-8 will enjoy this entertaining story that features creepy creatures familiar to many Hispanic kids.
---
Jasminne Mendez is a Dominican-American poet, playwright, translator, and award-winning author of several books for children and adults. She is the author of two hybrid memoirs, Island of Dreams (Floricanto Press) and Night-Blooming Jasmin(n)e: Personal Essays and Poetry (Arte Público Press). Her second YA memoir, Islands Apart: Becoming Dominican American (Arte Público Press) is forthcoming in May 2022 and her debut poetry collection, City Without Altar, was a finalist for the Noemi Press Book Award for Poetry and will be released in August 2022. Her debut middle grade book Anina del Mar Jumps In (Dial) is a novel in verse about a young girl diagnosed with Juvenile Idiopathic Arthritis and is set to release in 2023. Her debut picture book Josefina's Habichuelas (Arte Público Press), was released last year. She is represented by Stefanie Sanchez Von Bortsel at Full Circle Literary.
Josefina's Habichuelas/Las habichuelas de Josefina
Like all kids, Josefina loves to eat sweets. She loves warm chocolate chip cookies right out of the oven, cupcakes and candy! One night, while eating a piece of flan, Mami asks her to consider giving up sweets for Lent, the 40 days leading up to Easter. "That's impossible!" Josefina says. When Mami promises to teach her how to make her favorite dessert, habichuelas con dulce, she agrees to give it a try.
Josefina can't wait to end her fast and eat the delicious sweet cream beans, her family's traditional Easter dessert. While she and her mom, tías, and abuela prepare the dish, they dance to merengue music and tell stories about life back in the Dominican Republic. The kitchen fills with the aromatic smells of cinnamon and sugar, but it's the feelings of love and happiness Josefina will never forget. On Easter Sunday, when the family eats the special dessert she prepared, the girl's grandmother proclaims, "It's the best pot of habichuelas con dulce I've tasted in my life!"
This heart-warming, bilingual picture book for children shares a universal story all kids can relate to—learning about one's culture through food, music, and family stories—while focusing on a cultural tradition specific to the Dominican Republic. As a bonus, the book includes the recipe for this special dessert—in both English and Spanish!
---
Anna Meriano grew up in Houston and graduated from Rice University with a degree in English, and earned her MFA in creative writing with an emphasis in writing for children from the New School in New York. There she met CAKE Literary founders Dhonielle Clayton and Sona Charaipotra, who started her on the Love Sugar Magic journey. Anna has written three Love Sugar Magic books.
Love Sugar Magic: A Mixture of Mischief:
Anna Meriano's unforgettable family of brujas returns for one more serving of amor, azúcar, and magia, in this breakout series that's been called "charming and delectably sweet." (Zoraida Córdova, award-winning author of the Brooklyn Brujas series)
It's spring break in Rose Hill, Texas, but Leo Logroño has a lot of work to do if she's going to become a full-fledged bruja like the rest of her family.
She still hasn't discovered the true nature of her magical abilities, and that isn't the only bit of trouble in her life: Her family's baking heirlooms have begun to go missing, and a new bakery called Honeybees has opened across town, threatening to run Amor y Azúcar right out of business.
What's more, everyone around her seems to have secrets, and none of them want to tell Leo what's going on.
But the biggest secret of all comes when Leo is paid a very surprising visit—by her long-lost Abuelo Logroño. Abuelo promises answers to her most pressing questions and tells Leo he can teach her about her power, about what it takes to survive in a world where threats lurk in the shadows. But can she trust him?
---
Nidhi Chanani was born in Kolkata, India, and raised in California. She holds a literature degree from the University of California, Santa Cruz. She creates illustrations that capture love in everyday moments. In 2012 she was honored by the Obama Administration as a Champion of Change. Her illustrations are often featured at Disney Parks. She's the author of the graphic novel Pashmina; Shubh Raatri Dost/Good Night Friend, a bilingual board book; and illustrator of the picture book I Will Be Fierce. Nidhi draws and dreams in the San Francisco Bay Area with her husband and kid.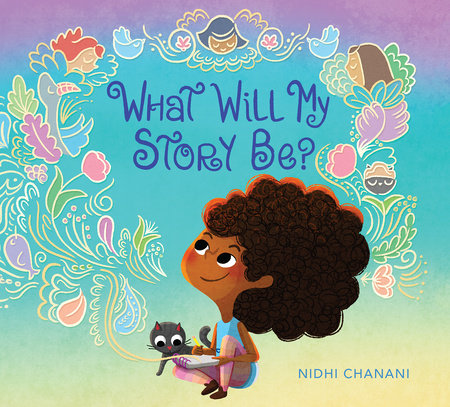 What Will My Story Be?
From the creator of the critically acclaimed graphic novel Pashmina, comes a new picture book that encourages kids to be their most creative selves and to imagine all the places that their stories can take them.
After spending an afternoon listening to her aunties tell her stories from their pasts, a young girl ruminates on all of the tales that she can create using her imagination and begins to feel as if the possibilities for her future are endless. Filled with Nidhi Chanani's signature vibrant illustrations, What Will My Story Be? is for anyone who finds inspiration in the quiet moments and cherishes the wisdom of the generations that came before them. Perfect for fans of Alma and How She Got Her Name by Juana Martinez-Neal, Drawn Together by Minh Le and Dan Santat, and You Matter by Christian Robinson.
---
Nicholas Solis has been writing all of his life, starting with knock-off Encyclopedia Brown mysteries and oddly deep poetry for an 8-year-old. Since then, he's continued to write picture books, travel blogs, teaching blogs, middle-grade novels, and poetry about farts (decidedly less deep). In 2018, he was the recipient of the Walter Dean Myers Grant from We Need Diverse Books, and in 2020 he was nominated for the 2020 Austin SCBWI Cynthia Leitich Smith Writing Mentor Award and was the winner of the Austin SCBWI's 2020 Creators of Diverse Worlds Scholarship.
His debut author/illustrated book THE STARING CONTEST (Peter Pauper Press) was released September 23rd, 2020. MY TOWN, MI PUEBLO (Nancy Paulsen Books), and THE COLOR COLLECTOR (Sleeping Bear Press) are scheduled for 2021.
Nick is also an award-winning elementary teacher with a Master of Arts degree in Curriculum and Instruction from the University of Texas and a Master of Arts degree in Educational Administration from Concordia University. He has traveled the world and taught students in Tanzania, India, and Morocco. From all of his travels he has learned one important lesson: No matter the circumstances, kids are kids. When he's not traveling, he enjoys spending time with his wife, their dog, and his brand new baby boy in Austin, Texas.
He is an active member of the Society of Children's Book Writers and Illustrators and of 12X12. He is also a writing fellow at The Writing Barn.
He also came in second on Hollywood Game Night. Seeing as how there are only two contestants, you could also say he came in last. 
The Color Collector
The Color Collector is a poignant story about newness, friendship, and common ground. When a boy notices the new girl picking up all manner of debris and litter on their walks home from school he wants to know why. So she shows him the huge mural she's created in her room that reminds her of the home she left behind. He learns all about where she's come from and they both find how wonderful it is to make a new friend.
---
Named State Poet Laureate of Texas in 2015, Dr. Carmen Tafolla is an award-winning poet and children's author, storyteller, performance artist, motivational speaker, scholar, and university professor.
The author of more than 30 books and a Professor of Transformative Children's Literature at UT San Antonio, she holds a Ph.D. in Bilingual Education from the University of Texas and a B.A., M.A., and a Doctorate Honoris Causa in Humane Letters from Austin College.  Tafolla has performed her one-woman show throughout the Americas, Europe, and New Zealand, and her work appears internationally in textbooks, newspapers, journals, magazines, elementary school Big Books & posters on city buses, and engraved on sidewalks and museum walls. Tafolla credits the community around her with her inspiration and her training, and says her works are inspired by "ancestors whispering over my shoulder."
A brave young butterfly, a small boy, and a dancing blue planet build a bond of love and hard work, drawing on the magic of their relationship. A delightful adventure into the migration of monarch butterflies, and the value of protecting those things we love, this touching story is told in simple but poetic language aimed at children from 5 to 99 and is beautifully illustrated with the rich colors of the Mexican forests where the monarchs head each winter.
---
Andrea Wang is an acclaimed author of children's books. Her book Watercress was awarded the Caldecott Medal, a Newbery Honor, the Asian/Pacific American Award for Literature, a New England Book Award, and a Boston Globe-Horn Book Honor. Her other books, The Many Meanings of Meilan, Magic Ramen, and The Nian Monster, have also received awards and starred reviews. Her work explores culture, creative thinking, and identity. She is also the author of seven nonfiction titles for the library and school market. Andrea holds an M.S. in Environmental Science and an M.F.A. in Creative Writing for Young People. She lives in Colorado with her family.
The Many Meanings of Meilan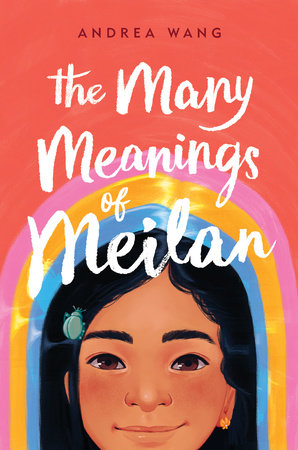 Pure joy and the power of community radiate from this sweet picture book about a young Black girl's perseverance and confidence in following her double Dutch dreams.

Africa's grandmother was a double Dutch legend, and Africa knows she can become the same. Her brother scoffs when she signs up for a double Dutch competition, though—how can she hope to compete when she's never done it before? But Africa has all the tools she needs: memories of her grandmother, her bestie Bianca's dance moves, her friend Omar's rhythm, and her classmates' Mary Mack timing and cartwheels.
If Africa can pull everything together to jump some winning moves, she might just fly, but it's the birthmark in the shape of her name that tells her she's always been a winner.